A prenatal supplement intended for mares throughout the entire gestation period, ensuring a successful reproduction process. Adding Broodmare PN to your mare's feed gives the foal a storage of much needed nutrients to aid in growth and development in the most crucial first months of life.
Extensive clinical as well as field research has established that the combination of trace elements and vitamins in Broodmare PN work effectively to prevent developmental or thopedic disease (DOD and COD), as well as contracted tendons in developing foals.
The mare has 11 months to deposit 20 pounds of dry matter (vitamins, minerals and protein) in her foal. Feeding 2 pounds of Broodmare PN daily throughout gestation enables the foal to store enough trace minerals and Vitamin A in its liver to last 4 months. The storing of nutrients in the foal's liver is crucial due to the lack of adequate trace minerals in the mare's milk.
At birth, the foal's body is made up of 80% water, and the skeleton is made of cartilage rather than bone. Bone development begins at birth therefore trace elements are crucial to during the first 4 months of life.
Yeast cultures provide the enzyme cellulose, which enhances fiber digestion, as well as phytase which increases phosphorus utilization from grain.
Added organic selenium aids in:
- Prompt complete expulsion of placenta
- Increased colostrum and milk selenium content
- Better tissue retention
- Optimized immune response
Broodmare PN is a fixed formula so your horse will get the same taste, texture, nutrition, calories and quality ingredients from every bag.
Broodmare PN should be fed all year to mares in continuous breeding programs, and can be fed with or without grain depending on mare body condition and forage quality.
All Tizwhiz products contain the Vitamin and Mineral Micro Pac, the most extensively researched and proven balance of vitamins and minerals
INGREDIENTS
Ground Corn, Wheat Middlings, Cane Molasses, Dicalcium Phosphate, Potassium Chloride, Natural and Artificial Flavors Added, Calcium Carbonate, Vitamin E Supplement, Zinc Oxide, Ferrous Sulfate, Copper Sulfate, Magnesium Oxide, Manganous Oxide, Vegetable Fat, Sodium Selenite, Vitamin D3 Supplement, Vitamin A Acetate in Gelatin, CalciumPropionic, Ethylenediamine Dihydroiodide, and Yeast Culture.
FEEDING DIRECTIONS
PREGNANT MARES - Feed up to 2 pounds of TIZWHIZ Broodmare PN per day for mares weighing 1,000 to 1,200 pounds. Feed free choice mixed forage. If forage is of poor quality, you may need to supplement with 2 to 3 pounds of TIZWHIZ SIXTEEN or TIZWHIZ TWELVE per day to maintain weight.
NURSING MARES - All lactating mares should be switched to TIZWHIZ SIXTEEN or TIZWHIZ TWELVE. Feed 1 pound per 100 pounds of body weight per day, adjusting to the quality of hay or pasture available. DO NOT FEED VITAMIN OR MINERAL SUPPLEMENTS WITH TIZWHIZ BROODMARE PN. ALWAYS FEED HAY, WATER AND LOOSE SALTFREE CHOICE
DO NOT FEED TO SHEEP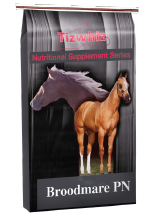 GUARANTEED ANALYSIS
Crude Protein: MIN 8.00 %
Lysine: MIN 0.03%
Crude Fat: MIN 5.00 %
Crude Fiber: MAX 5.00 %
Calcium (Ca): MIN 3.50 % MAX 4.50 %
Phosphorus (P): MIN 2.80 %
Sodium (Na): MIN 0.20 % MAX 0.70 %
Potassium (K): MIN 0.45%
Magnesium (Mg): MIN 0.28%
Copper (Cu): MIN 160 ppm
Manganese (Mn): MIN 300 ppm
Selenium (Se): MIN 2.0 ppm
Zinc (Zn): MIN 500 ppm
Vitamin A: MIN 16,580 IU/lb
Vitamin D3: MIN 1,700 IU/lb
Vitamin E: MIN 160 IU/lb