The original Tizwhiz premium horse feed, redesigned to meet the needs of today's adult horse
Controlled starch formula
6% fat for controlled energy
Added yeast cultures:
- Enhanced fiber-digesting bacteria creates more efficient use of vitamins and minerals derived from forage
- Better nitrogen utilization
- Stabilized cecal/ colon pH
- Helps in availability of forage phosphorus because of the phytase enzyme
Added organic selenium
- Increases digestive absorption
- Better tissue retention
- Optimizes immune response
Higher calories allow for lower feed ration on maintenance animals
Train-n-Maintain is a fixed formula so your horse will get the same taste, texture, nutrition, calories and quality ingredients from every bag.
All products contain the Vitamin and Mineral Micro Pac, the most extensively researched and proven balance of vitamins and minerals
INGREDIENTS
Ground Corn, Wheat Middlings, Ground Oats, Soybean Meal, Cane Molasses, Dicalcium Phosphate, Choline Chloride, Vitamin E Supplement, Calcium Carbonate, Ferrous Sulfate, Copper Sulfate, Zinc Oxide, Manganous Oxide, Niacin Supplement, Sodium Selenite, d-Calcium Pantothenate, Vitamin D3 Supplement, Vitamin A Acetatein Gelatin, Thiamine Mononitrate, d-Biotin, Riboflavin Supplement, Folic Acid, Vitamin B12 Supplement, Ethylenediamine Dihydroiodide, Cobalt Carbonate, Salt, Yeast Culture, and Bentonite.
FEEDING DIRECTIONS
HORSES SHOULD BE FED AS INDIVIDUALS TO MEET THEIR NEEDS OF BODY WEIGHT AND ACTIVITY LEVEL.
Feed up to 1 pound of TIZWHIZ Train-n-Maintain per 100 pounds of the horse's weight per day, adjusting to the quality of hay or pasture available. Body tape your horse and weigh the feed to ensure proper amounts.
DO NOT FEED VITAMIN OR MINERAL
SUPPLEMENTS WITH TIZWHIZ TRAIN-n-MAINTAIN
ALWAYS FEED HAY, WATER AND LOOSE SALT
FREE CHOICE

DO NOT FEED TO SHEEP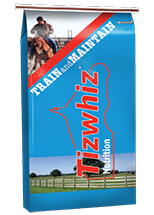 GUARANTEED ANALYSIS
Crude Protein: MIN 12.00 %
Lysine: MIN 0.50 %
Crude Fat: MIN 6.00 %
Crude Fiber: MAX 5.00 %
Calcium (Ca): MIN 0.80 % MAX 1.30 %
Phosphorus (P): MIN 0.70 %
Salt (NaCl): MIN 0.40 % MAX 0.70 %
Sodium (Na): MIN 0.20 % MAX 0.40 %
Copper (Cu): MIN 60 ppm
Manganese (Mn): MIN 40 ppm
Selenium (Se): MIN 0.3 ppm
Zinc (Zn): MIN 180 ppm
Vitamin A: MIN 2,515 IU/lb
Vitamin D3: MIN 1,000 IU/lb
Vitamin E: MIN 150 IU/lb
Biotin: MIN 2.70 mcg/lb